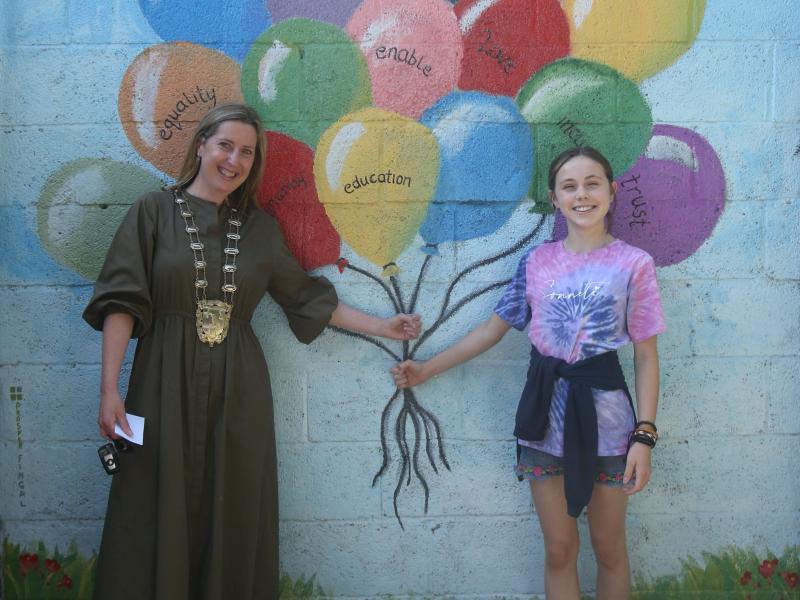 The Rush Tidy Towns committee have unveiled the Ros-Eó Mural Wall, which involved the hard work of over 100 volunteers from Rush community coming together and bringing this wonderful project to life. The 18 murals were painted by 31 local artists on a dilapidated 450 foot long, 10 foot high wall with 51 separate panels. The murals are themed to represent aspects of Rush during the past, present and future.
Funding was secured from Fingal County Council (FCC) to purchase the base layer paint and other materials, with significant donations of unwanted paint provided by a local paint shop.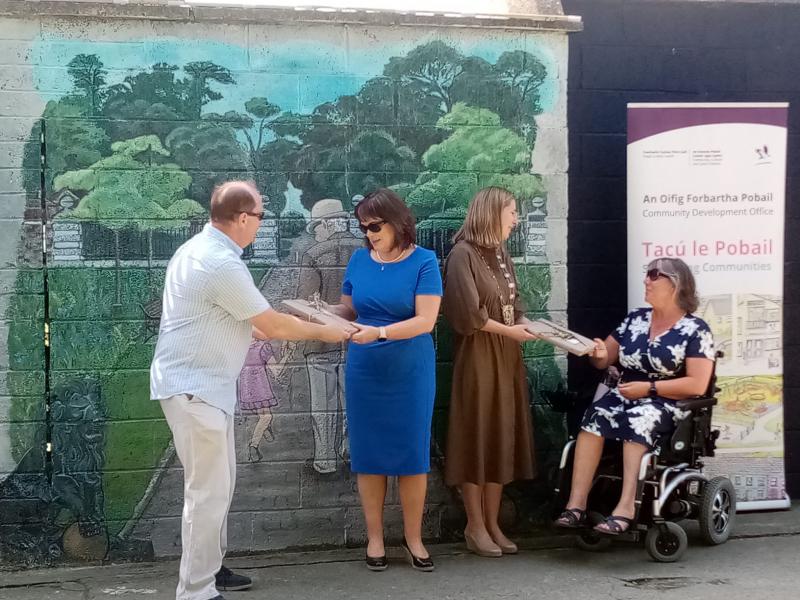 Despite Covid, the community found a way to uplift people's spirits, whether it be involved as an artist, or just viewing the Mural Gallery on their daily walks. The Mural they have unveiled represents "Caring", which took about 40 hours to complete and it epitomises what Rush community is all about. It's an image of a young child and an elderly person in front of the gates to Kenure Woods
Brendan O'Reilly, Rush Tidy Towns who commissioned and managed the project said: "We were amazed by the level of participation right across the community with 29 local groups, and residents from 10 to 73 years of age helping out. The quality and scale of the 18 murals was way beyond our expectations as we were lucky to have so many brilliant local artists working on the project. We hope we also provided a sense of belonging and community during these disconcerting times."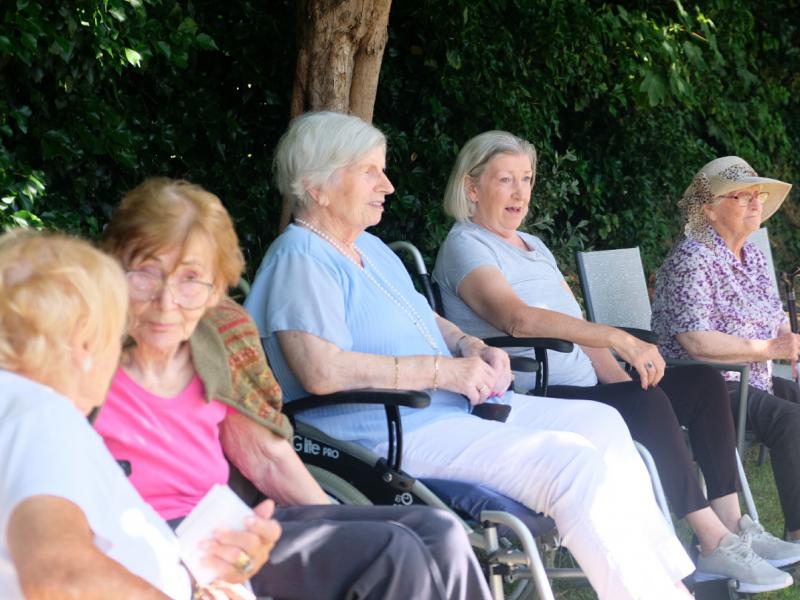 The following groups were involved in the project:
Prosper Fingal
Rush Scouts
Fingal Against Racism
St. Maurs GAA Club
St. Josephs' School
Loretto College Balbriggan
N.C.A.D Cricket Club
GAA Allstars
Rush Boxing Club
Rush Athletics
Rush Pipe Band
Rush Golf Club
Rush Sailing Club
Rush Taekwondo
Junior Park Run
Rush Badminton Club
Rush First Responders
Rush Tidy Towns
Rush Men's Shed
Rush Camera Club
Rush National School
Gaelscoil Ros Eo
St. Catherine's National School
Rush Musical Society
The Millbank Theatre
Rinceoil Rush
Rush Nursing Home
Fingal Mayor Seána Ó Rodaigh said:
"Ba mhaith liom buíochas ó chroí a ghabháil le gach duine a bhí páirteach sa togra pobail seo.
I would like to congratulate everyone involved in this fantastic art project. Rush has a strong tradition of community engagement and this beautiful artwork will bring joy to many for years to come. The importance of our public spaces has been more evident than ever in recent times. This project is a creative way to add colour and beauty to our built environment while connecting us to the story of Rush throughout the ages for generations to come."
Chief Executive of Fingal County Council AnnMarie Farrelly said:
"Rush has a proud tradition of fostering strong community spirit through the arts and its many community groups and organisations. Fingal County Council is delighted to support this hugely impressive collaborative project and to see the results of months of careful work come to fruition in the form of the Ros-Éo Mural Wall. I am delighted to be here in Rush today for the unveiling of this spectacular piece of art, which not only colourfully depicts Rush through the ages but also serves as a symbol of hope and a beacon of positivity for all who will enjoy it for many years to come. I would like to offer my congratulations to all who contributed to making this mural a focal point for the town and I look forward to future collaborations between Fingal County Council and your community."
A link to the video showing the making of the wall can be viewed here.